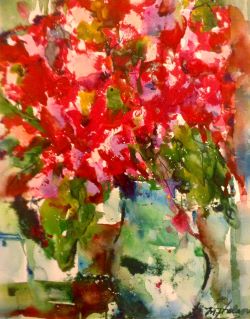 "Summer Blooms" Painting by Maureen Phelan - valued at €700
Description
A stunning piece donated to us by artist Maureen Phelan, this would be a stunning addition to any home or indeed make a beautiful and unique gift for a loved one.
Painting by Maureen Phelan "Summer Blooms".; Mixed media; Screen/watercolour; Framed 23"w x 25""l.
Valued at €700
http://dublinpaintingandsketchingclub.ie/artists/maureen-phelan/
Maureen Phelan has been creating works of art for many years from her studio outside Carlow town in the picturesque surroundings of the Killeshin Hills.
A native of Canada, she initially studied Commercial and Fine Art while training in the audio-visual aspects of advertising in Ontario. Upon completion, she worked in radio, television and newspaper as a Commercial Artist and Copywriter.
As an award-winning atmospheric painter and printmaker, 'colour and mood' would best describe her considerable work in watercolour, oil and carborundum limited edition prints.
Inspiration derives from her travels and local surroundings and her work includes a vast array of flowers studies, townscapes, landscapes, string ensembles and nude studies.
Annual exhibitions include Wexford Opera, Eigse, Kilkenny Arts Week, Galway Arts in addition to group shows and galleries throughout Ireland.
Works are held in private collection worldwide, Public, Corporate and Embassy collections in Ireland. Maureen is also a Member of the Watercolour Society of Ireland and the Leinster Printmaking Studio.